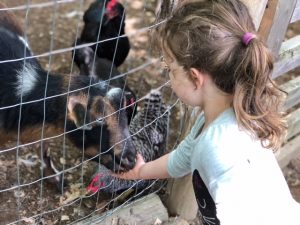 The program at Bouncing Bubbles Child Care includes animals, both in the home and in the barn. Every reasonable precaution is taken to protect children and animals from harm and any hazard likely to cause injury. We aim to provide a safe and hygienic environment that minimizes the risk of a child being harmed by an animal. Children will be closely supervised when accessing any animal at child care.
The provider educates children in the proper care and treatment of animals. We instruct children on safe procedures to follow when in close proximity to animals – for example, not to startle animals or touch them when they are near their food.
Animals will be properly cared for (clean water, food, immunizations, checked for fleas, ticks and worms). The barn stalls will be cleaned at least weekly.
Children and adults will wash their hands after they have handled an animal.
A signed permission form will be required before a child is allowed to enter the barn. Boots and child-size gloves will be provided by Bouncing Bubbles and required for children to have access to the barn. Activities in the barn include collecting eggs and observation of animals.