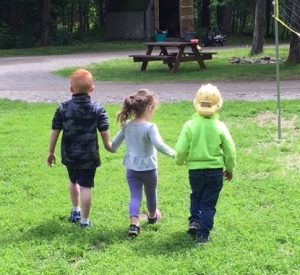 Welcome to Bouncing Bubbles Child Care! It is my vision to provide your child with a fun early-childhood program within a safe home environment.
My philosophy of childcare is to provide an environment for the child:
Where children feel safe, happy and loved
Where play based learning happens with a balance of child-led and teacher-led activities
Where exploration and discovery are encouraged
Where each child is celebrated as an individual with their own unique abilities, learning style, needs and interests
That encourages socialization as well as independent play, reinforcing positive values
My philosophy of family-centered childcare is to provide for families:
Open and honest communication about your child
Up-to-date information about your child's activities
An attitude of teamwork in areas relating to your child's development
My background gives me the support to bring about my philosophy, including:
More than 20 years of experience in family child care
AS degree in Early Childhood Education
National accreditation from NAFCC (National Association for Family Child Care)
Home Start provider
A Step 4 Certificate of Quality from the State of Maine Quality Rating System
CDA (Child Development Associate) Credential
Maine Inclusion Credential
Maine Youth Development Credential
Maine Infant Toddler Credential II
5210 Let's Go! Gold Site
CACFP Child Nutrition Professional certification
Secretary, FCCAM (Family Child Care Association of Maine), Maine affiliate of NAFCC
Over 1,100 hours of additional professional training in early childhood development
My goals in caring for your child are to:
Provide a safe, nurturing environment that is as much like home as possible
Guide social development through positive interactions, building healthy relationships
Introduce art, music, math, literacy, language and science concepts through curriculum planning that is inclusive of all abilities and needs
Observe, assess and plan curriculum to encourage school readiness
Thank you for choosing Bouncing Bubbles Child Care. As a team, we can work together to provide a wonderful experience for your child.   At Bouncing Bubbles Child Care we believe…
Children should be in a home-like setting in their early years where they feel safe and happy
Learning should happen as a result of fun, developmental activities
Children should learn how to relate to others with respect and honesty
Time should be allowed for children to play in groups and individually
The family and the provider should work together as a team to provide a positive experience for the children
Bouncing Bubbles Child Care admits children of any racial, national, religious, ethnic origin, or ability level from all backgrounds, belief systems, family dynamics, and orientations. In short, we recognize and invite the participation of all people, not discriminating on any basis in the administration of our program.
We maintain confidentiality and respect the family's right to privacy, refraining from disclosure of confidential information, unless we have reason to believe that a child's welfare is at risk.
A copy of the State of Maine Rule Relating to the Licensing of Family Child Care Providers can be obtained at http://maine.gov/dhhs/ocfs/ec/occhs/cclicensing.htm.  See "Rules for Family Child Care Providers".