Our outdoor classroom has been certified by Nature Explore!  Our classroom offers interactive, open-ended materials and elements that allows children to use their creativity, imaginations and initiative. Research consistently shows that children who learn and grow in Nature Explore Classrooms exhibit enhanced concentration, develop creativity and problem solving techniques, manage stress in healthy ways and develop skills across the spectrum of academic and creative learning.
.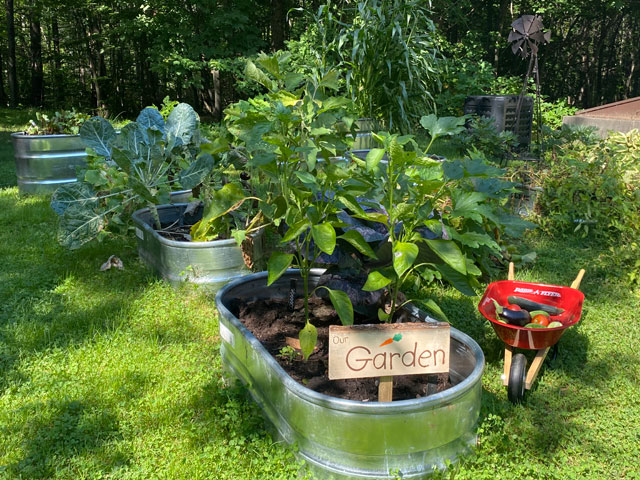 Our classroom includes a barn which houses chickens and ducks.  There the children learn to handle and feed the birds and collect eggs.  Our garden is comprised of raised beds using animal troughs.  We choose vegetables that grow in different forms (spinach, eggplant, broccoli, carrots, brussel sprouts, corn, cucumbers, etc), colors and textures, with the children planting, weeding, watering, and harvesting the produce.  Throughout the classroom, we also have a strawberry bed and blueberry, raspberry, and blackberry bushes, as well as a sensory garden with herbs.
| | |
| --- | --- |
| | |
The sandbox and mud kitchen are favorite spaces where children explore with sand and other materials like acorns, leaves and sticks.  The water wall has a long chute to explore how different objects move through water.  The dirt pile includes trucks, shovels, and other tools to dig.  The gravel pit is a space with pea gravel where trucks can load, unload, and move the small rocks.  Alongside the gravel pit is our construction area with several forms of building materials, such as bamboo and natural tree blocks and mini bricks.  Also in this area are small cars and a road made from bricks.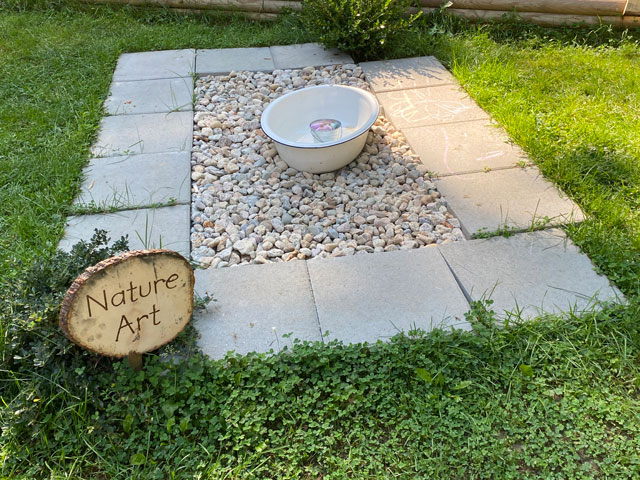 The nature art area includes pavers where children can use chalk to draw and a table to use natural materials for some amazing art pieces and mosaics.  Our music and movement space includes a wall of instruments, dancing materials, along with a stage for their performances.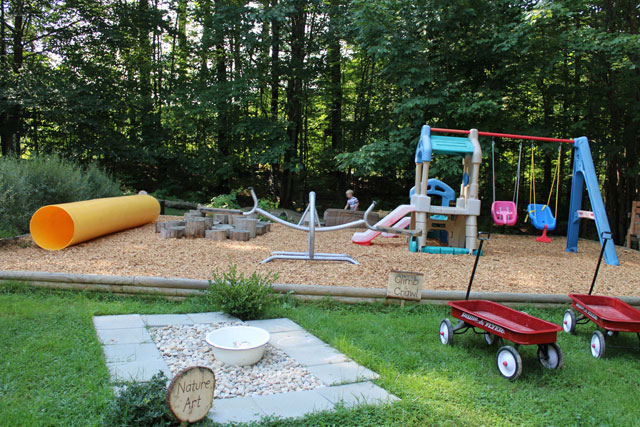 Because the driveway is circular, it creates a great area for wheeled toys and large motor movement.  For the older children, there are many yard games including corn hole, ladder ball, tether ball and others.  There is also a climbing structure with swings, a teeter totter, a large tunnel and climbing stumps in varying heights for more large motor movement.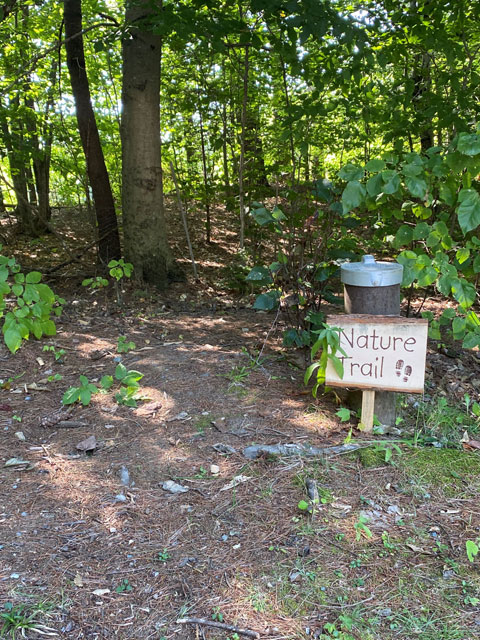 The nature trail is in a fenced area of the woods where kids can explore those elements that are not found in the more open spaces.

Finally, our gathering area is a place where we can just sit and talk or read or simply enjoy the sights, sounds and smell of nature.